With our library music, you can make your project stand out from the crowd. Discover our range of over 175,000 songs across every musical genre, download your tracks, and add the music to your background in moments.
The Best Library Music
A solution for all creators, Audio Network has the best library music for all your projects. If you're looking for a track to fit within a specific musical style we have thousands of tracks to license in every genre, such as Classical, Latin, Grunge, Country, and Punk.
From the Clarinet and Tuba to Oompah and Bagpipe Bands, it's easy to search our library music to find a track more focused on instrumentation. We even have an extensive range of Human Beatbox tunes for any of your commercials, social videos, and more.
When your project needs to tap into the feelings of your audience it's easy to explore our range of mood and emotion library music. Find Sad, Romantic and Comedy tracks, as well as tracks to create a Magic & Mystical feel, together with a wide range of Beds & Underscores.
Whether you're working on a film, a promo reel, or plenty of creative projects in between, our range of Production Genre songs will have a track tailored just for you. Discover music for Children's TV, Rom-Com & Family Movies, or even Spaghetti Westerns! We also have a huge variety of tracks suitable for News and TV Music Themes.
What is Library Music?
Known by a few industry names, library music is pre-recorded and licensed with the goal of being featured in various mediums. This royalty-free music is owned by the library and made readily available for any type of creative project. Licensing a track from a music library means that it's also pre-cleared for worldwide and multi-platform use.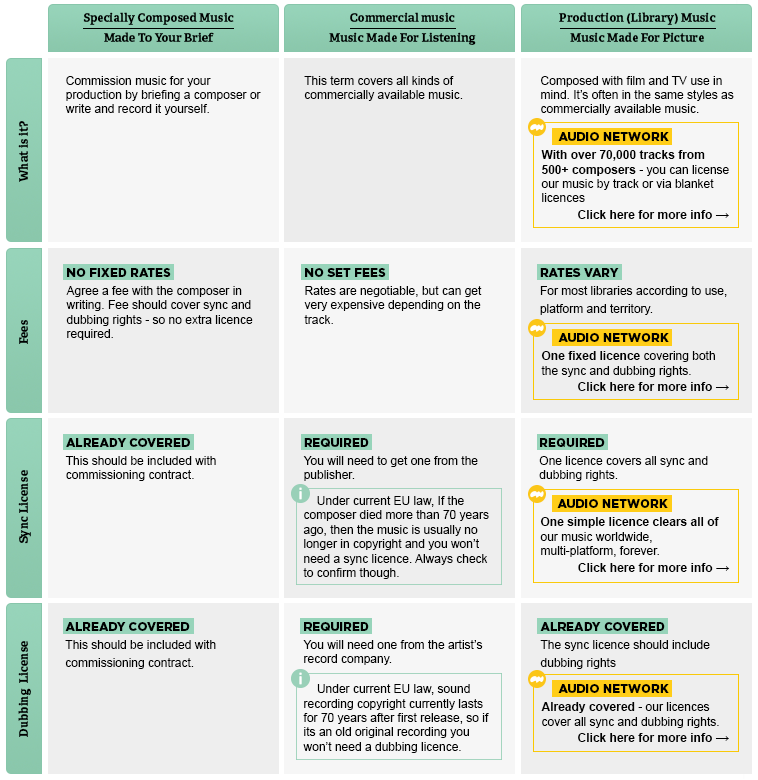 See also in our Music Glossary:
Copyright free music
License free music
Music copyright
Needle drop music
Music licensing
This page was originally published 08/12/2015 and updated on 29/05/2020