MADE BY YOU, SOUNDTRACKED BY US: SYNC NEWS NOVEMBER 2022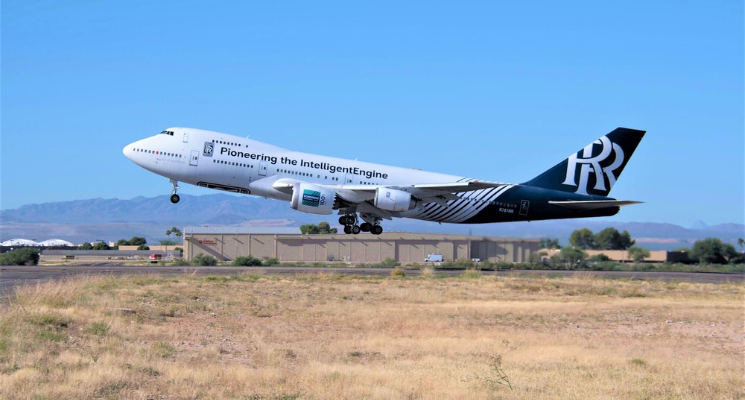 Photo Credit: www.aerotime.aero
How many hotdogs a human can eat in a minute? How have the grounds of Sheffield Park evolved over the centuries? And what did Ian Wright make of Arsenal's recent win against Wolves? Just a few of the eclectic questions answered in this month's Audio Network sync selection.
Read on to hear more about the musical choices of our clients and to pick up some inspiration for your next sync.
Alecsys Low Emission Combustion System Takes off into Flight Phase
Producer: Rolls-Royce
In this film, aerospace engineers Rolls-Royce relay how they made positive steps towards reaching their mission of Net Zero flights by successfully entering the final phase of testing its ALECSys (Advanced Low Emissions Combustion System) demonstrator engine, at altitude. We see the demonstrator in action in the skies, attached to the Rolls-Royce Boeing 747 Flying Test Bed in Tucson, Arizona, USA.
Underscoring ideas of innovation and progress, accompanying the visuals is Mark Petrie's inspirational track 'Grand Renewal'. It features positive, driving strings and piano, plus noble brass and steady percussion.
Fastest Time to Eat a Burrito - Guinness World Records
Producer: Guinness World Records
Sating our latent Man Vs Food cravings, Guinness World Records paid a visit to the home of Miki Sudo and Nick Wehry, AKA The Hungry Couple. Giants in the world of competitive eating, Miki is currently ranked the number one female in the world – and number three with men and women combined – while Nick ranks as the world's fourth best competitive eater.
In this fun short, we see Miki set new world records for the fastest time to eat a burrito (31.47 seconds, down from 32.35) and the most hotdogs eaten in one minute (six, smashing the previous record of three). Meanwhile Nick claims the crown for most hotdogs eaten in three minutes, devouring 12 at lightning speed (the previous record was nine).
Providing some musical muscle to the world of competitive eating is the tense sports hip hop of 'Pop Lock And Block It' by LA-producer Coke Youngblood. Think hard-hitting drums, orchestral brass and strings, hooky synths and vocal shouts.
All Your GCSE Revision, in One Place Online!
Producer: Pearson
Don't know about you, but we still have regular recurring nightmares about flunking exams having done zero revision. Anyway, Pearson are stopping that potential future nightmare in its tracks with Pearson Revise, their online hub for GCSE revision.
This promotional video highlights the benefits of the service, with a little help from 'Birthday Party' by songwriter and producer Ben "Thamaddrumma" Thompson.
With its mix of powerful hip hop beats, filtered sax hooks, piano stabs and vocal shouts, it helps effortlessly convey Pearson's motivational messaging.
FAST FORWARD | Wolves vs Arsenal (0-2) | Unseen Footage, Tweets, Reactions and More!
Producer: Arsenal
Boasting 12 out of 14 league games won and a full five-point lead at the top of the Premiership table ahead of the international break, there's scarcely been a better time to be a Gooner than in 2022.
Arsenal TV are doing their damnedest to relay all the season's highlights to their faithful fans, including this away win at the Molineux Stadium, spliced with unseen footage, tweets and reaction videos from famous fans, including AFC legend Ian Wright.
To communicate that sense of forward motion, music supervisors turned to the triumphant, uptempo, EDM trap of 'Real Trapwives' by Birmingham-raised producer Cuzn Fred.
Unearth Centuries of Gardening History at Sheffield Park and Garden, East Sussex
Producer: National Trust
And finally, to Sheffield Park, East Sussex, where the National Trust put together this film to highlight the history of its 300 acres of parkland.
From the roots laid by the first Earl De La Warr and the influence of 'Capability' Brown and Humphry Repton to the tenure of horticulturalist Arthur Soames during the early 20th century, we see how centuries of landscape design shaped the spectacular estate. Plus, they share some eco-friendly tips, including on how we can utilise leaf litter in our own gardens.
What better soundtrack to showcase the park than 'What A Lovely Day' by Bristolian singer-songwriter Will Cookson? Featuring intimate male vocals, synth pads and gentle guitar layers, its mellow alt folk proves the perfect match for Sheffield Park's pastoral splendour.
Need Music for Your Project?
At Audio Network we create original music, of the highest quality, for broadcasters, brands, creators, agencies and music fans everywhere. Through clear and simple licensing, we can offer you a huge variety of the best quality music across every conceivable mood and genre. Find out how we can connect you with the perfect collaborator today by clicking the button below!
Audio Network's latest releases from 23rd January 2023. Listen and download now!
---
Audio Network's latest releases from 9th January 2023. Listen and download now!
---
Discover the best of this month's commercial releases. Featuring albums by Digital Dog, Abe Stewart, M-Zen, Badd Haircutt and Paddy Conn.
---