INTRODUCING: SOUNDS OF JAPAN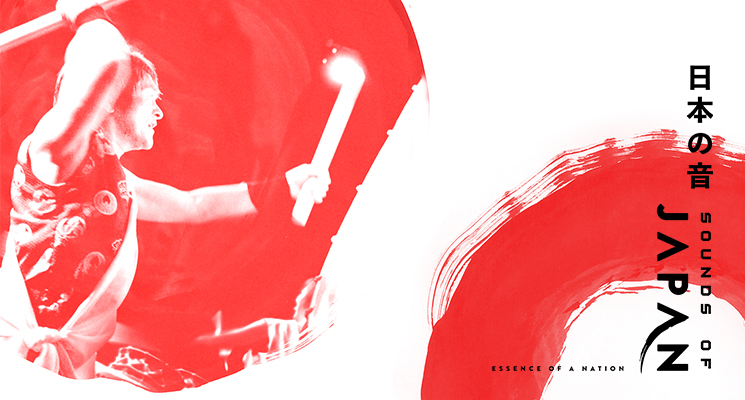 As the Rugby World Cup kicks off in September and the sporting world gathers in Tokyo next year, Japan is in focus.
There'll be a vast amount of content surrounding the events – covering everything from sporting highs and lows to Japan's culture and traditions, and we have the music to match.
There's a huge range of styles of Japanese music to choose from in terms of sync. Traditional Japanese music has a meditative character, with highly ritualised performance – sharing much in common with martial arts, and other Japanese art forms such as the tea ceremony and calligraphy. The music often looks to represent natural sounds through percussion, wind and stringed instruments.
Japanese dramatic forms, such as kabuki and noh, have a significant role for music, with the key instruments being shamisen (a three-stringed instrument played with a plectrum), the shakuhachi – a bamboo flute – and the koto, a stringed instrument that's often played during the cherry blossom (sakura) season. If you're looking for traditional Japanese music, then check out Shamisen Rock, which showcases heavy rock with blistering shamisen solos – ideal for soundtracking iconic and anthemic moments in sport.
Gold in Tokyo features triumphant orchestration, the mystical sounds of Japanese instruments, a dynamic choir and another instrument synonymous with Japanese music, taiko drums, for added drama. Taiko drumming also comes to the fore on Japan: The Colour of Sound. Takeshi Shibata is a Japanese composer who uses drums, chopsticks and shakuhachi alongside those powerful taiko drums, to create his sound.
But what about reflecting the modern face of Japan? With everything from cutting-edge tech to anime, games, and the country's unique and eclectic street fashion tribes such as Harajuku or gyaru (check out Vogue's pick of the best street style from Tokyo Fashion Week for inspiration), you'll want to find the best in J-pop.
Our J-pop album features plenty of energetic, happy and cute Japanese pop songs with female vocals, ideal for capturing modern Japanese culture.
If you're looking for general inspiration, then check out our dedicated playlists:
We've worked with the finest composers, musicians and producers to create our Sounds of Japan collection. The albums encapsulate Japan's history, traditions and culture, whilst also allowing its dynamic modern-day face to shine through. This is combined with ease of use for editors, including a wide variety of mixes, edits and cut-downs.
Sounds of Japan includes all the music you'll need to soundtrack sport, travel, food and culture programming and content, encapsulating the essence of this fascinating, and ever-changing, nation.
DISCOVER THE SOUNDS OF JAPAN
Audio Network's latest releases from 10th August 2022. Listen and download now!
---
From Neighbours to Netflix, and showreels to summer parties, our artists have been providing stylish soundtracks. Check out the latest syncs from Audio Network.
---
Your round-up of July's best commercial releases. Featuring records by Philip Guyler, Wayne Murray, Matt Nasir, Mark Petrie and Andy Cooper.
---