MUSIC AND STORYTELLING IN 'SITARA'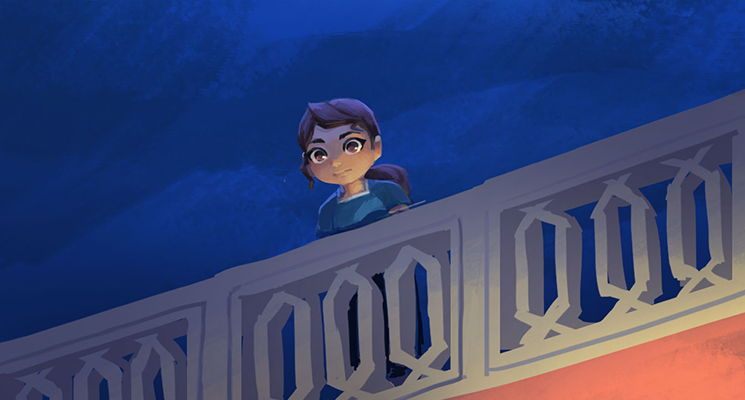 How can we use music to deliver a message? That was the question posed by Oscar-winning director Sharmeen Obaid-Chinoy to the composer and musicians on her animated short, Sitara. The film tells the story of a young Pakistani girl, Pari, who dreams of becoming a pilot. Her father, however, has other ideas.
Sharmeen wanted to strip the story of dialogue, to ensure the film's message carried through, even if the viewer speaks a different language. As she says, 'In order to do so, we needed a composer who understood what Pari's hopes and dreams were, and how society had forced her to give those up.' Sharmeen knew she'd found the right person the first time she met Laura Karpman – a Grammy-winning composer whose music has featured on everything from films to theatre, video games to concert commissions. 'The sparkle in her eyes, the excitement she had – the fact that she wanted to support young girls' dreams – I knew instantly that this was more than music. This was a woman who's committed to telling stories. Her music has made Sitara come alive,' she reveals.
Sharmeen is full of praise for Laura's contribution to the film, 'The orchestra, the sounds, the people that she's pulled together have really made the story and its message touch people's hearts.'
Sitara's composer: Laura Karpman
As the founding President of the Alliance for Women Film Composers, the message of Sitara – let girls dream – was always going to be one that's close to Laura Karpman's heart.
On a break whilst she was conducting the orchestra for the score at Abbey Road Studios, we caught up with Laura to examine the challenges of writing for an animation, and how she came to join the Sitara team.
What is unique about animation, for you?
Animated films are their own strange little beast; there is a specificity to the writing – one has to really follow the action closely. With this film in particular, there's no dialogue, so the music really tells the whole story of the film. This film has a radical dramatic arc. It starts out very childlike, and then it becomes much more serious in the middle of the film; so music has a – delightfully! – heavy role in this project.
How did you become involved with Sitara?
This project was really serendipitous. It's a funny story – Andrew and Ali [from Audio Network] came to my studio and talked about me maybe coming to work and doing some collaborative projects with them. And then Sharmeen showed up in my studio two weeks later, having been recommended to me by Darla Anderson, who's a producer on tons of Pixar films, including Cars, Toy Story 3, Monsters, Inc. and Coco. She flew down to the studio, showed me the film and I fell in love – with both of them really! And then I put two and two together and thought, 'maybe we could do a multi-tiered collaboration between Audio Network and this beautiful film Sitara.'
Then just chatting with Andrew and Ali, they mentioned Evelyn Glennie, who I've known for years. And I said, 'let's bring her on board – she'd bring an incredible array of colours to the score' - which she has.
Sitara is a project about empowering girls, and empowering women and there's a tremendous team of powerful women involved in the film. And the film has a message about freeing girls from the burden of marriage and allowing them to dream of projects that are maybe outside of their experience. That's a space I've been involved with my whole life, really; being a composer who happens to be female, I have often been the only woman on a project, and I've been very involved with trying to empower women to know that music composition is a space that we can inhabit. I've also been involved with trying to eradicate the pervasive invisibility of women in the film and television business.
We also spoke to Evelyn Glennie, whose percussion helps to provide the score's emotion and drama.
How did you get involved with Sitara?
I was asked if I'd like to contribute towards the percussion playing for Sitara, and obviously when Laura's name was given to me as the composer, I was very excited, because she's just so amazing at writing for such a myriad of instruments. Laura and I have worked together in the past and I'm always intrigued by her curiosity as regards to how percussion can be played – to really pushing the boundaries – but she is such a great 'colourist' and all of the time you know that every time you strike something, it's always like a pearl.
What instruments feature in the score?
Percussion consists of hundreds, if not thousands of different instruments. Laura's score has so much magic in it. I'm playing xylophone, glockenspiel, tubular bells – lots of different types of individual bells and then deeper sounds such as bass drums, tom-toms and timpani. And then some instruments that come from the region itself including various types of frame drums and different types of bells.
How does studio recording differ from live performance?
I give many performances as a solo percussion player - to record for an animated film in the confines of a studio is very, very different from a live performance.
In a live performance, I suppose you're so animated yourself, everything is exaggerated: because you're trying to fill a rather large hall or theatre with sound. But of course once there are microphones there, right next to your instrument, all of the dynamics have to be so much in control – and what you think is loud can be extremely loud when it's in a studio situation! It's a very different environment and a different 'giving of sound'.
Recording for an animation
In an animated situation, it's amazing how responsive you have to be. If you see a character running down a hill, or throwing a paper aeroplane, or something like that, then you have to be there, absolutely on the button. And it's incredible how, in a way, the percussion is a real colour: the percussion can be legato and smooth, or it can be militaristic, or precise. If you have a funny scene, you think of the xylophone; if it's more militaristic, you might think of the snare drum, and so on.
When I record for an animated film, it's very much character-driven, and the percussion can be magical. It's wonderful when you can really create all these sudden changes of mood; it has to happen so quickly; it's almost as though you're walking on a tightrope!
Supporting a director's vision
For Sharmeen, Sitara's director, working with Laura, Evelyn and Audio Network has taken her film to a level she never anticipated: 'To be able to record at Abbey Road Studios and to have an orchestra and the full might of Audio Network – it's incredible to have people who support the vision and the mission, but who also put their money where their mouth is. It's very rare to find people who come together from far and wide to support a cause like this – and without them, Sitara would never be possible.'
Need a Black History Month playlist? Look no further than here at Audio Network!
---
Jazz can add so much personality to a film, whether the film is based around the genre or not. Here, we round up the best films to feature jazz soundtracks, from 'Mo' Better Blues' to 'La La Land'.
---
Suicide Squad (2016) and The Suicide Squad (2021) are two completely separate projects, but one thing that they share in common is that they both feature terrific music. Join us here at Audio Network as we take a look at the tracks on both Suicide Squad soundtracks.
---