INTRODUCING: JUAN CARLOS RODRIGUEZ AND SIDHANT KAPOOR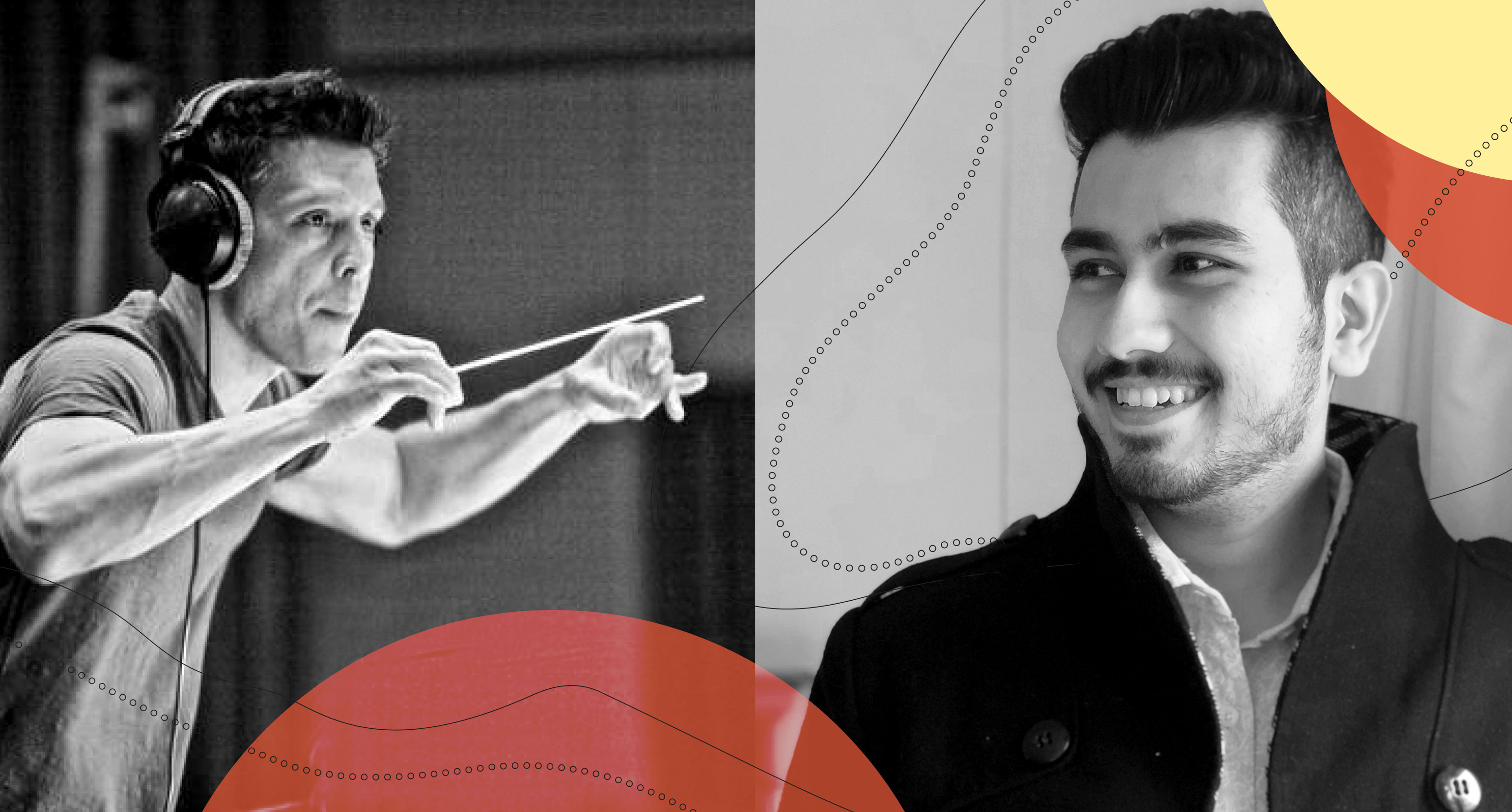 Two of our featured World Lifestyle Series composers and artists for Asia and Latin America are Sidhant Kapoor and Juan Carlos Rodriguez.
Composer, producer and songwriter Juan Carlos Rodriguez was born in Venezuela, and began his career as the recording engineer on Shakira's multi-platinum album Laundry Service. Juan is a four-time recipient of the BMI Film & TV Award for his work on East Los High.
When did you start composing?
Juan Carlos Rodriguez: I was 8 years old when I started taking piano lessons for about 3 years. It was a music immersion kind of thing and I was also exposed to singing, playing the melodica and flute. Even though that was a short time it sparked my interest in music.
I grew up listening to all the collection of The Beatles that my best friend's big brother had and my own only album at 11 was a live recording in 4 vinyls called The Greatest Jazz concert in the World (I vividly remember when my dad bought it for me!) so I would listen to it several times a day, sang along and learned the BEST jazz lines ever from Ella Fitzgerald, Duke Ellington, Oscar Peterson to T-Bone Walker and company!
At 16 I started exploring the piano again and when I learned the blues scale... there was no turning back! I'd play piano with my childhood best friend, who also had a piano; we discovered pianist/composer Dave Grusin, which inspired me to start attempting to create emotions using music, connecting music to images and particular emotions, after I learned that he was an amazing jazz pianist but also a great arranger and a film composer (On Golden Pond, The Firm, The Graduate, Tootsie, etc).
I started exploring dissonance, different scales and harmony to create moods, even though most of the time I didn't know what I was playing. That's how I developed my musical intuition.
Going back to my early love, the combination of the amazing sound, production techniques, harmonies and great songwriting from The Beatles made me understand, appreciate and attempt to use those elements into my compositions early on and still today. Those were and will always be great songs, so I learned what a 'great' should be and sound like. It's the same with the openness, textures, moods and different harmonic approach with film music. I appreciate the best of both worlds: popular and cinematic music.
What genre best fits your music?
I'm known as a Latin music composer, because I love it and understand it and I have no doubt that all this great music I listened to growing up mixed with all the beautiful traditional music from all Latin America made me a solid composer capable of composing in any style. At the end of the day, I'd say my music compositions are a blend of common sense, a good ear and good taste!
What can you tell us about the music scene in Venezuela and Latin America?
The first thing to understand is the geographical location of Venezuela. It's at the top of South America, facing the Caribbean and close enough to the USA and Mexico, between Colombia and Brazil. I inevitably listened to everything from all around Latin America.
I'm a big, big fan of Bossa nova (new wave) - I listened and grew up playing it. Back then, I'd listen to what the adults were listening to; I only had one amazing album!.So growing up, I loved Salsa, merengue, mariachis, music from the Andes, Tango from Argentina (Carlos Gardel and later Astor Piazzolla were huge in my country).
On top of that, the African influence on rhythms, percussive instruments and chants on the coast of Venezuela is comparable with the blues in the south of the USA coming from slaves (working for early Spanish conquerors in our case). Even the rumba and the flamenco brought from Spain was something we used to dance to at parties - el pasodoble is a classic first dance at a wedding!
We also have great traditional music with complex rhythmic patterns and metrics (5/8m 12/8, 6/8, etc.). All of those influences are running through my veins as a composer! From Latin America, I love Juanes and Carlos Vives (Colombian pop), Oscar D'León (salsa), the versatility of Shakira with whom I had the pleasure to work with as a recording engineer on Laundry Service in Miami. I love Astor Piazzolla (Argentinian tango), Colombian cumbia and Vallenato, Reggaeton (Puerto Rico) and good merengue (Dominican Republic), and all their urban fusion styles. I truly listen to and appreciate all kinds of music!
Which international music genres do you listen to and love?
I love the classics! Impressionists Debussy and Ravel were such geniuses! also (from different periods), Englishman Benjamin Britten and German superstars Bach and Richard Wagner one century later. I have always loved jazz and blues especially pioneer musicians such as Jaco Pastorious, Miles Davis and Muddy Waters. And of course, I'll listen to the Beatles forever.
I long for great creative artists and not just people that are trying to please the masses, nothing wrong with that, but honestly that's the difference between good artists and immortal ones. I'm also a huge rock fan: ACDC, Led Zeppelin and later Nirvana and Red Hot Chilli Peppers.
What instruments do you play that are synonymous with Latin America?
I play piano and a little bit of guitar, Venezuelan cuatro and all kinds of Latin percussions. As a composer, arranger and producer, I absolutely love putting those rhythmic puzzles together!
There have been countless iterations of keyboard instruments from the clavichord to the pianoforte (modern piano) and it's the same with guitar-like ones and especially percussive instruments - the most primitive of the instruments alongside the human voice. Scratching, hitting, shaking something to get sounds and rhythm out of it is a very pleasant and primitive instinct. After all, you don't give a guitar to a baby, you give her a 'shaker'!
I never forget where I come from and I will never forget the music that nurtured my happy and amazing childhood.
Listen to Juan Carlos's music and more from our Latin American playlist, which includes everything from passionate traditional tango to Cuban dance and Dominican bachata.
We caught up with Sidhant Kapoor to find out more about his famous musical family and his love of A.R. Rahman's film scores
Did you grow up playing music, and when did you start composing?
Sidhant Kapoor: I was born in a family of musicians with my father [Ruhan Kapoor] and grandfather [Mahendra Kapoor] both being singers in India. They used to practice their vocal exercises rigorously and waking up to their voices began my fascination for music. I started singing at the age of five, then I played multiple instruments including the piano, guitar and the harmonium. I realised that I enjoy composing when I was around 12 and started recording some of my initial ideas on a simple keyboard, which was the only piece of equipment I had back then. I started getting opportunities to compose professionally around the age of 16.
What instruments do you play and what's the particular feel they give to your music?
I mainly play the piano and the harmonium. When I started my Indian vocal lessons, the harmonium was a natural choice for accompanying the vocals, so I started playing it along with the Indian songs I sang. I find my voice is the most natural way to express Indian music, with all its nuances.
Since Indian musicians learn through improvising, they're not used to a strict notation system, so my ability to sing the Indian phrases helps me communicate with the musicians precisely what I wish to convey. Even though I don't play many of the Indian instruments on my tracks myself, my training as a vocalist assists me to convey exactly what I want the musicians to play and thereby arrive at the feel that I wish to achieve with the track.
What genre would you say your music fits into?
There a few projects that I work on that are very genre specific. Genres like New Age Music, Meditation Music, Fusion Music, World Music, Indian Classical, Indian Folk, Indian Popular Music, Indian Film Music (popularly known as Bollywood) and Bhangra.
Then there are a few projects which are not genre-specific, so I don't think about the genre or the style of the composition and I simply think about the emotion that I wish to convey.
Irrespective of the approach, Indian elements are inadvertently an integral part of my expression.
What music from India influences you most?
India is a vast country with a lot of different cultures, which in turn means a lot of different styles of music. Each state has its own unique folk music, a different style of Indian classical music and a distinct regional popular music style. I grew up listening to all these different genres of Indian music, so they all subconsciously influence me.
If I had to choose one, I would say that Hindustani Classical Music influences me the most.
In terms of Indian artists, my biggest influence in popular/film music is definitely A.R.Rahman (best known to UK audiences for his Golden Globe and Oscar-winning soundtrack to Slumdog Millionaire, which sold over two million units worldwide). For Indian Classical, I absolutely love the Chakrabarty family from Calcutta (Ajoy Chakrabarty & Kaushaki Chakrabarty), Hari Prasad Chaurasia and Anoushka Shankar. Other than that, I enjoy listening to folk music artists such as Wadali brothers and Mame Khan among others.
Which international music genres do you listen to?
Staying in Mumbai exposed me to a wide range of genres from the West as well. I always enjoyed listening to Western Classical Music from an early age. My father introduced me to evergreen English classics and along with him I listened to the likes of Frank Sinatra, Louis Armstrong, Elvis Presley and Tom Jones!
In Mumbai I trained under jazz exponent Xavier Fernandes for a few years, which opened me up to the world of jazz. When I went to study music composition in the Trinity Laban Conservatoire of Music in London, I was introduced to contemporary classical music, which was totally new to me.
I enjoy listening to all these genres, but I particularly enjoy listening to artists that are experimenting with music that doesn't fit into any genre, or is across genres. It feels new to the ears and I feel it's an honest expression of emotions for those of us who have been exposed to so many genres that we naturally express ourselves through a cocktail of them and create new combination of sounds.
Where's your favourite place to travel to in the world?
It's difficult for me to choose as I love travelling to new places and observing people from different cultures. It's fascinating to see how their ways of life affects their art. Right now, I'm heading to a traditional Flamenco performance in Madrid and I'm eager to watch it as I have never seen one before! If I was forced to choose a favourite place though, I would say Rishikesh. It's a divine town in the Himalayan foothills beside the Ganges River. The spiritual vibe of the place is unique and it's my 'go to' place to detox.
Listen to Sidhant's tracks on our Asia playlist.
Need a Black History Month playlist? Look no further than here at Audio Network!
---
Jazz can add so much personality to a film, whether the film is based around the genre or not. Here, we round up the best films to feature jazz soundtracks, from 'Mo' Better Blues' to 'La La Land'.
---
Suicide Squad (2016) and The Suicide Squad (2021) are two completely separate projects, but one thing that they share in common is that they both feature terrific music. Join us here at Audio Network as we take a look at the tracks on both Suicide Squad soundtracks.
---