WHO ARE THE WORLD'S MOST SUCCESSFUL FEMALE ARTISTS?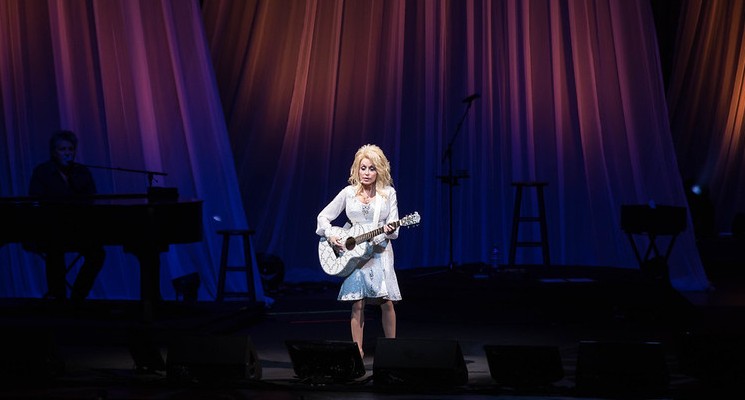 Who is the biggest-selling female artist in the world? Which female star has sold the most albums – and which album is the fastest-selling in history? Do you know which prolific songwriter has been nominated for a Best Song Oscar across five decades, and still not won? Plus, you'll be surprised by which country star turned down Elvis and made herself $10 million as a result… We look at the biggest, brightest and most successful female recording artists and stars.
Who is the most famous female recording artist of all time?
Depending on how you're measuring it, we'd argue the Queen of Pop, Madonna. She's released 14 studio albums, three soundtracks, five live albums and six compilations, plus 63 UK Top 10 singles. Since 1983 she's sold an estimated 335 million albums and singles worldwide. Madonna's biggest sellers are The Immaculate Collection (c28.2 million copies and counting) whilst five of her singles are estimated to have registered sales of over 5 million units, including 'Like a Virgin' and 'Hung Up'.
Only The Beatles, Elvis Presley and Michael Jackson have sold more records worldwide than Ms Ciccone and she's clocked up 20 gold, 17 platinum and 12 multi-platinum album awards. Over a 40+-year career (she first signed with Sire Records in 1982), the 'Material Girl' is estimated to have amassed a net worth of roughly $570 million – no doubt helped by being the highest-grossing solo touring artist of all time, with over $1.4 billion in ticket sales.
Which female artist has sold the most albums in history?
In terms of record sales, Billboard magazine released its official rankings of the 125 greatest musical artists of all time, based on titles from the Billboard Hot 100 songs chart, as well as the Billboard 200 albums chart. Their most highly-ranked female artist was Mariah Carey.
However, the Guinness World Records ranks Madonna as the best-selling female recording artist of all time.
Barbra Streisand
Barbra Streisand's career has spanned six decades – with No. 1 albums in each of them - and she's always pushed boundaries. She became the first woman to write, produce, direct and star in a major studio film with Yentl, (1983) which went on to win two Oscars and a Golden Globe for Best Director.
During her music career, Streisand has been nominated for 45 Grammy Awards, winning eight, and she's sold more than 145 million records worldwide. In terms of the most No. 1 albums, Billboard lists her third, with eleven (behind The Beatles with 19 and Jay-Z with 14); she's one of only four groups or artists with 30 or more Top 10 albums (coming second to the Rolling Stones).
The biggest selling album by a female artist
Shania Twain's third studio album, Come on Over (1997), has shifted over 40 million copies. The Canadian country music star ruled the airwaves with 'Man! I Feel Like a Woman', 'You're Still the One' and 'That Don't Impress Me Much' – ironic, given the album stayed in the US Top 10 for 54 weeks, and set a record for the longest stay in the Top 20 of the Billboard 200 (112 weeks.) It's the eighth all-time best-selling album in the US, and the sixteenth in the UK.
Fellow country queen Dolly Parton can lay claim to two Guinness World Records – for 'Most Decades with a Top 20 Hit on the US Hot Country Songs Chart' (six consecutive decades, starting in 1967) and 'Most Hits on the US Hot Country Songs Chart by a Female Artist'. Over 50 years in the business, Parton's written over 3,000 songs and built up a net worth of over $500 million – and not just from music. Her theme park Dollywood has more than a million visitors a year.
Plus, Dolly was a trailblazer in terms of knowing your own worth. Elvis Presley was due to cover her hit 'I Will Always Love You', but on the day of the recording, his manager Colonel Tom called and said they'd only record the song if they got half of the publishing rights. Dolly's reaction? 'I thought, "Oh no, that's already been a hit, and that's what I'm leaving for my family". It had nothing to do with Elvis – I just wouldn't let him have the publishing.' It was a decision that paid off in spades when Whitney Houston introduced it to a new generation in The Bodyguard, earning Dolly an estimated $10 million in royalties.
Which female artist has the fastest-selling album?
Adele
Debuting at No. 1 in 32 countries and breaking first week sales records just four days after its US release (it clocked up 3.38 million in its first week – over 5.77 million worldwide), Adele's third studio album 25 became the world's best-selling album of 2015, with over 17.4 million copies sold. AND she became the first female to have three Top 10 singles on the Billboard Hot 100 at the same time.
Adele compounded her record-breaking sales by becoming only the second female artist to take home six Grammys in a year (2012), nabbing the 'Big Four': 'Album of the Year', 'Best New Artist', 'Record of the Year' and 'Song of the Year' and has ten Grammys in total – plus hers was the first Bond theme to win an Oscar ('Skyfall').
And that's not to mention the 2.6 billion views for the 'Hello' video, (it racked up 50 million views in its first 48 hours), which on current rankings makes it the fourth most-viewed video by a female artist/female-fronted group, behind Katy Perry and Taylor Swift.
The most viewed music videos by female artists
Katy Perry - 'Roar' - 3 billion views
Katy Perry's 'Roar' (2013) has clocked up an astonishing 3 billion views (and 'Dark Horse' takes the No. 3 spot). Stranded in the jungle after a plane crash with a quickly-dispatched, selfie-obsessed idiot, Katy has thankfully clearly had a pre-trip Netflix Bear Grylls binge-watch, and proves herself a resourceful gal. She's soon made friends with a selection of animals and birds who help her become Queen of the Jungle, and prove that she's a Jane who's not in need of any Tarzan-type to save her, thanks very much.
Taylor Swift – 'Shake it Off' – 2.8 billion views
Snapping at Katy's heels, this single from Taylor Swift's album 1989 saw her shaking off her country crown forever and shifting to pure pop. The video for Tay-Tay's hater-crushing anthem proved controversial for some, with accusations of cultural appropriation and that she was perpetuating black stereotypes. However, the fact remains that it's irritatingly catchy and you'll have to sit on your hands to stop them doing the 'shake, shake, shake' move every time you hear it.
The most influential black female star - Beyoncé
'Let's just cut to the chase: There's not likely to be a more meaningful, absorbing, forceful and radical performance by an American musician this year, or any year soon, than Beyoncé's headlining set at the Coachella Valley Music and Arts Festival' New York Times
In 2018, heralding the first time a black woman had headlined the festival, Beyoncé performed for nearly two hours and was joined on stage by more than 100 performers – a masterfully synchronized and colour-coordinated army of singers, dancers, majorettes, drummers and marching band members atop bleachers. Plus a reunion with Destiny's Child bandmates Kelly Rowland and Michelle Williams (for 'Say My Name') and a duet with sister Solange, together with an appearance from her husband, Jay-Z on 'Deja Vu'.
A masterclass in black history, feminism and the iconography of historically black colleges and universities' (HBCUs) half-time shows, the set was a superpowered fusion of hits, covers and iconic black anthems, with weapons-grade choreography and blistering vocals throughout.
Beyoncé claimed the crown for the first music act in the Billboard 200 chart's history to debut at No. 1 with their first six solo studio albums and her success during the 2000s saw her recognised as the Recording Industry Association of America's 'Top Certified Artist of the Decade', as well as Billboard magazine's 'Top Female Artist of the Decade'. No doubt helped along by being the most nominated woman in the Grammy Awards' history (with 24 wins).
Beyoncé is a cultural force on Instagram, as well as heading up clothing brand Ivy Park, and according to Forbes has an estimated net worth of $400 million. In 2020, Time named her as one of the 100 women who defined the last century.
The world's richest female musician
Her family know her as Robyn Rihanna Fenty and according to Forbes, Rihanna's the world's richest female musician, with an estimated net worth of $600 million. In 2007, she declared to PAPER that she wanted to be 'the black Madonna' and her constant image changes and laser focus in both music and business (her beauty brand Fenty is a global bestseller praised for its inclusivity) definitely mean she's on track to make it a reality. Her home country Barbados even has a dedicated Rihanna Day on 22nd February.
Who's the most followed woman on Instagram?
Ariana Grande claimed the crown from Selena Gomez earlier this year. The musician and actress has 176 million followers. Other notables on the list are Beyoncé (the ninth most-followed person on the platform, with 141 million followers), whose pregnancy announcement pic became the most-liked photo in 2017 (11.18 million likes).
The best selling movie soundtrack of all time
The Bodyguard
In terms of movie love songs, they don't come much bigger than Whitney Houston's 'I Will Always Love You'. The soundtrack to The Bodyguard became the biggest-selling of all time (an estimated 42 million copies sold worldwide), helped by Houston's cover of the Dolly Parton classic spending 14 consecutive weeks as Billboard's No. 1 song on the Hot 100 Singles chart and 10 weeks at No. 1 in the UK.
The film may have made a movie star out of Whitney (playing singer/actress Rachel Marron), but you've actually got co-star Kevin Costner (aka Frank, her bodyguard) to thank for 'I Will Always Love You'. The final song was slated to be a cover of Jimmy Ruffin's 'What Becomes of the Broken Hearted', but as production got underway, a Paul Young cover of the song was featured in Fried Green Tomatoes. Costner, a country fan, suggested the Dolly Parton cover as a replacement – and that Houston sang the introduction a capella to add more emotion.
A Star is Born
Lady Gaga and Bradley Cooper's soundtrack to the film A Star is Born involved collaborating with not only some of country music's biggest names (such as Lukas Nelson, who also appears in the band in the film), but also legendary song-writers such as Diane Warren, together with regular Gaga collaborators including Mark Ronson, Dirty Pretty Things' Anthony Rossomando and Miike Snow's Andrew Wyatt.
The soundtrack was a No. 1 in more than 15 countries, and has sold over six million copies worldwide. It was nominated for seven Grammy Awards, winning for 'Best Pop Group/Duo performance' and 'Best Song Written for Visual Media'.
Katie Atkinson from Billboard picked A Star Is Born as the 21st best release on their ranking of the 50 Best Albums of 2018, saying that, 'like the best soundtracks, this one truly resonates because it re-transports you to the world of [the film], thanks to a combination of live and studio recordings that include ambient noise and audience feedback and put you right back onstage with Jackson and Ally.'
If you need any persuasion that 'Shallow' might be the most romantic song of 21st Century movies, the video of 'Shallow' has had nearly 800 million views…
The most-streamed Christmas hit
Mariah Carey's 'All I Want for Christmas is You' was written in 1994 – and unbelievably didn't actually hit No. 1 on Billboard's Hot 100 list until 2019, earning it the accolade of the 'longest trip to No. 1'. But now, it's Spotify's most-streamed Christmas song of all time and with estimated sales of over 16 million copies, it's the best selling Christmas single by a female artist and the third best-selling Christmas song of all-time.
The top Latin female artists
J. Lo
Jennifer Lynn Lopez does it all – singing, dancing, fashion designing, acting, producing and running her own businesses (including 25 different fragrances). She received a Golden Globe nomination for her first lead role, in the biopic Selena and then became the first Latin actress to earn over $1 million for a film role, going on to establish herself as Hollywood's highest-paid Latin actress.
Her films have grossed $3.1 billion and she's sold an estimated 70 million records worldwide. In 2018, Time listed her among the most influential people in the world. And all that was before starring in Hustlers, which gave J-Lo her highest opening weekend for a live action film and awards nominations at the Golden Globes, SAG awards, Critics' Choice and Independent Spirit Awards. Not to mention a landmark performance at the 2020 Super Bowl halftime show, alongside Shakira.
Shakira
Hailing from Columbia, Shakira made her recording debut aged just 13, then broke through internationally with her fifth album, Laundry Service, which sold over 13 million copies. Her music has netted her three Grammy Awards, thirteen Latin Grammy Awards, thirty-nine Billboard Latin Music awards, and a star on the Hollywood Walk of Fame. In 2009, Billboard listed her as the 'Top Female Latin Artist of the Decade' – she's gone on to sell more than 75 million records worldwide.
Plus, she's one of only three female artists to have two YouTube videos exceeding two billion views.
From child actress to international pop star - Miley Cyrus
Ever since her big break as the title character in Hannah Montana aged eleven, the 'Wrecking Ball' star has forged a successful singing and acting career. But when your godmother is the legendary Dolly Parton, and your dad's a big name in country music, you're pretty much destined to make a name for yourself in the industry. Plus, Miley's Black Mirror alter-ego Ashley O – 'a fictional pop star created for a Netflix TV show, played by a real pop star who became famous for playing a fictional pop star' became a bona fide, breakout star; Cyrus even donned a neon lilac wig to perform as Ashley at last year's Glastonbury Festival. The Ashley O single featured in Rachel, Jack and Ashley Too, 'On a Roll', has amassed over 18 million Spotify streams and YouTube views, in a very meta moment.
The most important songwriter in the world
Diane Warren
When Diane Warren became the first songwriter in Billboard's history to have seven hits, all by different artists, on the singles chart simultaneously, the UK's former Chairman of EMI Music Publishing, Peter Reichardt credited her as, 'the most important songwriter in the world'.
She's penned tunes for everyone from Elton John to Barbra Streisand, Lady Gaga to Reba McEntire and Aerosmith – she wrote the Oscar-nominated 'I Don't Want to Miss a Thing' for the Armageddon soundtrack. Her songs transcend genre – 'Don't Turn Around' has been recorded by eight different artists as varied as Tina Turner, Aswad and Ace of Base and have featured in more than 60 films netting her five successive decades of 'Best Song' nominations at the Oscars, from the 1980s through to the 2020s. She was shortlisted this year for Chrissy Metz's 'I'm Standing With You' from Breakthrough – unfortunately, it continued her streak of being 'the most-nominated woman in the Oscars' history not to have won.'
Warren has been named ASCAP Songwriter of the year six times and Billboard's 'Songwriter of the Year' four times – plus her publishing company, Realsongs, was named one of the top five music publishing corporations, and the most successful female-owned and operated business in the music industry. Both as a prolific songwriter and in business, Warren is a true tour de force.
Need a Black History Month playlist? Look no further than here at Audio Network!
---
Jazz can add so much personality to a film, whether the film is based around the genre or not. Here, we round up the best films to feature jazz soundtracks, from 'Mo' Better Blues' to 'La La Land'.
---
Suicide Squad (2016) and The Suicide Squad (2021) are two completely separate projects, but one thing that they share in common is that they both feature terrific music. Join us here at Audio Network as we take a look at the tracks on both Suicide Squad soundtracks.
---