Neil Williams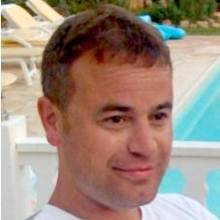 Neil Williams attended the Guildhall School of Music and Drama as the youngest, and last student ever to be admitted at the age of 17. Clearly drawn to the recording studio, he gained severe notoriety for his use of contra bass trombone in the German electronica duo, 'Zbrebvieniitz'. His work here, albeit critically acclaimed, brought upon him and his colleagues a criminally imposed hiatus during which the now famed Experimental Sausage Company was formed.
The Croatian underground free-club scene has never been the same since...indeed many critics have cited his pioneering work as the seed of many club classics such as 'Ah Mine Coontated Haaten' and unbelievably 'The Screety Moostard.'
The late 90's and the early noughties have seen Neil return to form with the wonderful and amazing Adam Drake and soon enough his old friend, the incomparible Gerard Presencer.
To quote from a Guardian review..."does the world really need this?"
We expect it probably does.
Positive rolling acoustic guitar gently building to uplifting indie rock
Relaxed acoustic rhythm guitars with uplifting melodic hooks & light drums
Relaxed & happy acoustic guitar theme with a summery vibe
Fast, driving & positive indie rock with feel-good male vocal hooks
Positive light indie rock builds with uplifting vocal hook
Thoughtful piano over steady beats & ambient electronic fx
Feel-good, summery light rock with catchy wah guitar hook & driving groove
Sparkling piano builds with uplifting guitar to inspiring climax
Bright, driving 1970/80s West Coast soft rock with soulful guitar melody
Mid-tempo US rock with a steady positive groove & catchy male vocal hook