Miles Bould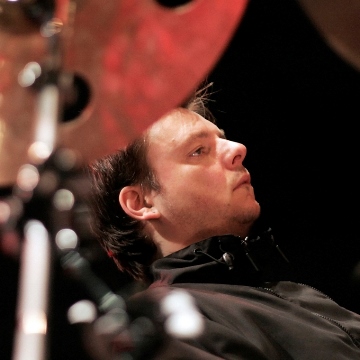 Miles was surrounded by jazz from a very early age as his father was an engineer and producer for Gil Evans, Dizzy Gillespie, Tubby Hayes, Stan Tracy and many more. As a child, he was given a set of conga drums and a lesson by Dizzy Gillespie and encouraged to practice, practice, practice!
Miles' career as a session percussionist and drummer started at the age of 16 and his passion for music and songwriting has taken him around the world. This exposure to diverse, global musical styles led to the formation of the bands Peoplespeak and USONiC – the latter of which received a MOBO nomination for "Best Jazz Album" in 2011.
As an accomplished musician, writer and producer he now works from his studio in North London as well as continuing to tour and record with a variety of performers.
Miles has worked with a number of illustrious artists including:
Beyoncé
Sting
Robert Palmer
Elvis (yes - you read that right!)
Tina Turner
Michael Jackson
Joe Cocker
Kylie Minogue
Dave Gilmore
As well as countless others...
Frantic chase with hectic strings, brisk percussion & electric guitar melody
Sailor melody with quirky Caribbean feel featuring sax, percussion & vocal
Magical toy train steams round the nursery, with celeste, perc & bass
Magical kids' wind up toys waking up, with marimbas, banjo & perc
Sweet, plodding reggae feel with sax melody. Gently lopes along
Zany electro swing for children with quirky vocals & percussion
Children's swing theme with quirky percussion, whistling & vocal sounds
Dominant African percussion with energetic transition at 1:11
Wild African percussion with fast & energetic tribal influences
Fast tempo, enthusiastic African percussion with tribal vocals