Biography
Kathryn Tickell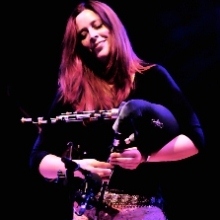 Kathryn Tickell is a composer and performer whose work is deeply connected to the landscape and people of Northumbria. Since her first album release in 1986 she has toured extensively throughout the UK and abroad.
As well as composing her own music she has collaborated with artists as diverse as Sting, Andy Sheppard, Sir Peter Maxwell Davies, to name a few.
As founder of the Young Musicians' Fund, Artistic Director of Folkestra, and newly-appointed Artistic Director of Folkworks, she has a real commitment to young musicians in the north east of England. In 2009 she was awarded the Queen's Medal for Music, awarded to artists judged to have made outstanding contributions to British music.
She performs regularly with The Kathryn Tickell Band and even worked with Sting on his recent album, to be followed by performances in Europe and the US.
Kathryn Tickell is a genuine voice for Northumbrian traditional music and continues to bring her wealth of creativity to audiences worldwide.
Lush acoustic guitars with layered fiddles, pipes & folky claps
Wistful folk with acoustic guitars, fiddle, Northumbrian pipes & glitchy beats
Uplifting, contemporary acoustic folk with pipes & fiddle
Reflective acoustic guitars with warm Northumbrian pipes & fiddle
Atmospheric looped guitars with bowed cymbals & wood flute
Very fast Irish reel with Uilleann (Irish) pipes & whistle - fast & furious!
Reflective Irish jig with accordion melody
Fast Irish squeeze box & strummed acoustic guitar
Light cheerful hornpipe with accordion & fiddle
Atmospheric slow air (ayre if you prefer) with Irish accordion & whistle