Ian Hughes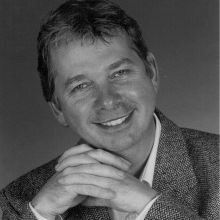 Ian Hughes was a consummate professional in orchestral composition, arrangement and conducting. He was a founder shareholder in Audio Network and an old friend of the company.
His credits include the artists Amii Stewart, Marti Webb, Bonnie Langford and Martine McCutchen and TV programmes such as The Adventures of Young Indiana Jones, Poldark and Flying Through History. He was also the original whistler on the Eastenders theme tune!
Sadly, Ian died in 2004. He left an irreplaceable gap at Audio Network.
Cheerful Italian small ensemble
Cheeky, comic Bavarian Oom Pah featuring brass and rhythm section
Tense, sparse percussion over continuous spring drum atmosphere
Relentless, mid tempo African percussion
Jaunty French Waltz quintet - violin, guitar, accordion, bass & brush kit
Solo Mandolin into lively Middle Eastern 10 piece band (at 22 seconds)
Exotic, slow, solo mandolin
Fast Jewish/Eastern European dance. Features Clarinet, Violin, Accordion and Bass
Expressive, gradually building Jewish Kletzmer. Clarinet & violin lead
Classic French style solo accordion