Alexander L'Estrange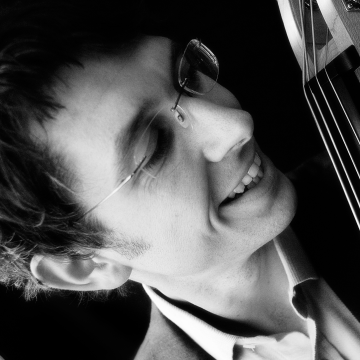 The composer and TV presenter Howard Goodall said "If you had to create from scratch the perfect 21st century musician Alexander L'Estrange would be your template." Alexander L'Estrange, (or Arnd as we all know him) is one of the newer additions to the ranks of Audio Network composers. Originally we met him through his wife, ex Swingle Singer Joanna Forbes (Celebration, The Sundance Singers). "We were constantly working with players who would ask us if we knew Arnd and how amazing he is" says Andrew Sunnucks, Audio Network's creative director. "Gradually the penny dropped that Arnd is something a bit special and when we found ourselves working with Jo we grabbed the opportunity".
Arnd is an Oxford Music Graduate (First-Class Honours!) with a formidable reputation as a singer – he started young as a treble soloist with the famous choir of New College, Oxford and has since gone onto perform in a range of styles from the avant-garde sounds of Stockhausen through to beat-boxing or close harmony work with the Swingle singers. Although vocal music has been a huge part of his life, he is also one of the best bass and piano players you will ever come across and has toured with many of the jazz greats including
Kenny Wheeler
,
John Dankworth
and
Bobby Wellins
.
As a composer, Arnd has completed commissioned works including large-scale pieces for St Paul's Cathedral, numerous a cappella works for international groups like the King's Singers and the Swingle Singers and choral scores which are sold all over the world. As a singer, Arnd's haunting and distinctive counter-tenor (male alto) voice has also been regularly heard both on CD and, more recently, on
TV
: as well as title music to "
Sweeney Todd
" (
BBC
, Jan 2007) and "
Peter Ackroyd's Romantics
" (2006) he is currently the voice of
BBC1
's highly successful "
Helicopters
" idents.
Nimble pizzicato strings with stealthy marimba & sparse glock melody
Hypnotic marimbas & pizzicato strings. Key change at 1:28
Urgent, insistent marimba rhythms with pizzicato strings & light percussion
Scary, pulsating horror drone with ghostly men's voices
Low vocal horror drone with men's voices
Rising choral horror effect chant
Ascending, scary choral vocal with jazzy cluster
Gentle, rising & ethereal choral effect
Contented, warm, descending vocal reveal with pretty solo soprano at end