Elfed Hayes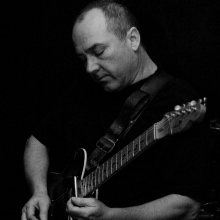 Elfed left his native Wales in 1974 to carry film cans around London's West end and make tea. Before long he was pressing buttons for "Brian Eno" and vocal sessioning at CBS studios for Track Records alongside members of "The Pretty Things". He went on to write and record for Micky Most's RAK label with the band "Flint".

During the 80s and 90s Elfed established himself as a radio and TV commercial sessioneer playing guitar, banjo, mandolin, harmonica and of course singing. TV ads include, "Pizza Hut" (Hit The Hut), "Lynx", "Tetley Tea", "Ginsters", "Green King", "Hellmans" "Delta Airways" (USA) and the list goes on. His rendition of Harry Chapin's "Cats In The Cradle" was soundtrack to the award winning government TV film calling for peace in Northen Ireland. He has performed live with David Byrne and more recently recorded for the late Sir John Dankworth.
Male vocal rock song about flying or drugs
Middle Eastern/Arabic lute & ethnic percussion
Light, folk/country rock song with Female lead vocal. For instrumental arrangement see Slideaway, by Tim Renwick.
Classic evangelical, choral gospel. Vocal arrangement of Freehand
Guitar and choral arrangement of Amazing Grace. Builds
Bright, fun ukelele strumming with cheerful tune
Classic country song with male vocal
Cheerful birthday song. Guitar and group vocal version
Solo guitar arrangement of famous tune
Solo guitar arrangement of famous nursery rhyme