BBC Count of Monte Cristo Project: A Pair of Briefs... - Part 2

By: Jeff Meegan
Date: 19 Nov 2012
The Specifics
Audio Network get involved with some pretty exciting projects, producing the highest quality stock music for some of the biggest companies in television, film and radio. Writing production music for the radio – for BBC Radio 4's Count of Monte Cristo was a special treat for David and myself. David has setup how we started writing it in his blog (Part 1), and this is my story.

The brief was flexible when it came to what the music should sound like, but specific when it came to the emotions that needed to come across. We knew only that we needed to use a Cello to represent Dante and the Count but other than that we had free reign on the rest of the pieces, which numbered 10 in total, to cover the pivotal characters.
Writing the Music
Once we decided on the live instruments that would be booked for the sessions we were able to start writing. David and I came up with some samples of music that gave us some initial direction and then we began coming up with 30 sec. nuggets of music for approval from the Radio 4 drama department. To turn words like deceptive and poison or young love and longing into music I usually picture a scene in my head and imagine the soundtrack that would go with it. I then start recording the parts via midi until the fabric is woven.
Chicago and London.
Once an idea is down David and I will send it back and forth to each other for comments and changes. To make our life easier we essentially have duplicate systems in our studios. This way we can send the music to each other for editing. It saves a great deal of time when you can open a file and see and hear the other persons changes or edits then add your own directly to the same file.
Trust
As David says in his blog of this project, I couldn't fly over for the recordings, so it's essential to trust your collaborator with their role. In this case, it was down to David to take care of recording these sessions and I had no qualms about letting him just go and get it done!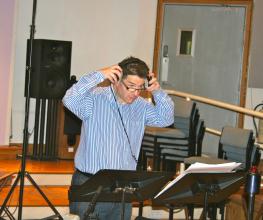 .. and Finally
The challenge really begins after the recordings.. Sometimes, by adding just one more element to a recording, it can blossom into something totally new and different from its original form. It's always a wonderful process of discovery and I think we nailed the brief on the head! Decide for yourself - you can hear the album now in the wonderfully eclectic Audio Network catalogue!.
*The "Count of Monte Cristo" airs in the Classic Serial slot on BBC Radio 4 from 3.00pm Sunday 25th November to Sunday 16th December, with each episode repeated the following Saturday at 9.00pm.

All episodes will be available on the BBC website after broadcast until Saturday 22nd December.

Find out more about another of David and Jeff's projects here.