Top Tips for Creating Music at the BVE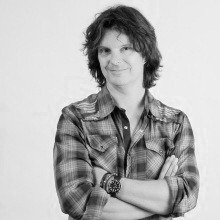 By: Chris Blackwell
Date: 14 Mar 2013
I'd been wanting to do something outside my comfort zone for some time but even so I was slightly surprised to hear myself asking the guys at Audio Network if I could speak at any events or seminars they had coming up.
I guess it was either public speaking or hang gliding but it was too cold for hang gliding.
Broadcast Video Expo (BVE)
I'm pretty sure I was expecting them to say "no thanks" but instead, I heard, "Great. Would you like to speak at the upcoming Broadcast Video Expo (BVE) at the Excel Centre then – we're holding a seminar about production music?". "Err, yes" I heard myself reply ... but what the hell was I going to talk about? "Well, just speak about what you do, " they said.
Creative
As is often the case with creative stuff, it's very difficult to describe what it is that you do when in fact you don't really think about it that much when doing it, but I reasoned that as it's me that does what it is that I do I should know what that is ... right?
Musician turns speaker
And so it was that I found myself standing in the drawing room of a Public Speaking Coach in Notting Hill, running through my script in a French accent - one of the more bizzarre scenarios I have ended up in over the years. I was told to project, use my arms, stand straight, make eye contact and smile, all at the same time, and all without passing out, which is fine in front of two people but ... "hang on, how many people are you expecting at these seminars?". "Oh, usually between 150 and 200 people".
Gulp.
Creative Tips for Music in your Production
The funny thing is that as soon as I got up on stage at the BVE it was absolutely fine. Maybe it was the lectern acting as a shield between me and the audience, a bit like my drums used to, but I felt strangely at home, especially when I noticed that people not only seemed to be listening to me but also seemed to be getting something from what I was saying. I talked about how I did what I do, how to choose music for film and being imaginative, but most of all how music is subliminal and can totally change the meaning of a film, all vital information for composers and editors.
Face to Face with Composers
But it was the bit afterwards that was the most amazing, talking face to face with the composers who had actually taken the time to come to the event and put themselves out there, just as I had done all those years ago. For each of the composers that attended (and there must have been thousands who didn't), these guys talking to me had the advantage. They were demonstrating that they had the determination, drive and ambition to know that they should be there, talking to Audio Network, and presenting their CVs in person. I found that to be very inspiring.
I think I'll do more of this ... after all, I didn't pass out - did I.