Tom Peters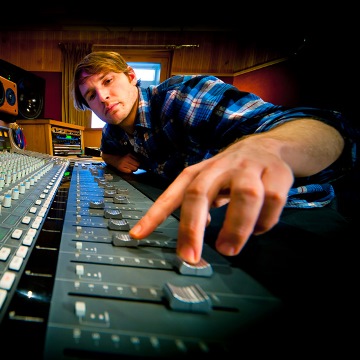 With a long background in studio production, Tom is also a session drummer - which he fell into after playing in indie bands in London.
Spending 2 years in France working as a mix engineer he met Terry Devine-King and was introduced to Audio Network. Tom started to engineer for Terry and subsequently went onto producing his own tracks.
Tom runs a studio facility in Bury St Edmunds where he works with Gavin Harrison and Greg McDonald.
Outside of Audio Network, Tom has worked with several artists including Matt Cardle/Mel C, Andrea Begley, New Young Pony Club, Cocknbullkid, Remy Nicole, and toured with support for Katy Perry, Amy Winehouse and Later with Jools Holland.
Last year Tom recorded Matt Cardle's third studio album which got to number 11 in the album chart and produced his current single Hit My Heart which has recently come off a six week stint on the Radio 2 A list. In 2013 he also mixed New Young Pony Club's third studio album.
Tom also works with unsigned bands to help develop their recordings and get them noticed!
Guitar builds into wailing topline over grunge rock groove & vocal 'oohs'
Up-tempo anthemic indie folk stomp with builds, bells & male backing vocals
Upbeat gritty indie with catchy vocal hooks & fuzz guitars
Spirited, summery folk featuring accordion, fiddle & mandocello
Fast lively folk romp with playful Celtic fiddle lead & parping bass tuba
Solitary piano builds with resolute & stirring orchestra to climax
Bright, easy listening folk pop with summery female harmony vocals
Positive samba infused indie with team chants & sparkly guitars
Epic, triumphant & heroic indie with multi-layered guitars & vocal melody
Cinematic rock featuring a male vocal with slave story lyric